One of the biggest advantages of self-driving lanes from Los Angeles to San Francisco might be their impact on local communities in central California.
Central California – including Kings, Tulare, Fresno, Merced and Stanislaus counties – are highly dependent on agriculture, health care and education to fuel their economies. Agriculture income can fluctuate greatly depending on seasonal and environmental factors, and the poverty rate hovers around 20%; well over the rest of California.
For Kettleman City, Bakersfield, Patterson, and many other central Californian cities and towns, tourism is an essential economic lifeline. And they've repaid visitors with unique attractions, fine dining and whimsical shopping experiences.
Opportunities for Pit Stops
Unlike plane and train commuters, those who drive between San Francisco and Los Angeles enjoy one-of-a-kind locales.
For instance, on Route 5, there's Bravo Farms in Kettleman City, where besides getting a taste of the old West with fabulous Tex-Mex, kids get to enjoy visiting a working water wheel and other mechanisms twirling throughout a mill-house. Or if you're looking for fancier fare, Ramon Rios and his wife Debra serve up their own varietals at Ramon Rios Winery in Tracy. There's also gorgeous golf at Diablo Grande in Patterson, or comfort food and friendly faces at Pea Soup Anderson's in Santa Nella.
Dedicated autonomous lanes would make self-driving cars a viable, attractive option for commuters who don't want to focus behind the wheel of a five-hour trip. Having layovers will make that trip all the more enjoyable. In short, autonomous vehicles (AVs) could be an economic boon to central California tourism.
How Would Passengers Get to Roadside Attractions?
Of course, getting to roadside attractions requires leaving the road! Doing so depends on exactly how the lanes would be implemented. There at least two general ways of implementing self-driving lanes, which we'll discuss in more detail in a future post: user-owned cars that can be operated autonomously once they reach the dedicated lanes, or fleet cars specifically made for the trip between cities.
While user-owned cars would require personal ownership of vehicles with autonomous features, they would be perhaps easier to implement, and certainly easier to make pitstops in. In this scenario, drivers would simply turn on autonomous mode when they reached the AV lanes. To visit an attraction, they would turn off autonomous mode and merge into standard lanes before the exits, much like we do with HOV lanes today. Also like HOV lanes, there could optionally be specific off-ramps created just for AVs.
Fleet cars, on the other hand, would be designated point-to-point vehicles, much like a train today, but with more personal choice about where to stop along the way. They would require specific off-ramps and parking plazas, and potentially transportation to destinations further from the road. But those parking plazas could become economic hubs complete with dining, shopping, and attractions of their own.
Advertising to Self-Driving Passengers
The ability to attract passengers without worrying about distracting drivers offers a huge opportunity in advertising. Some advertising for local attractions could follow similar methods as we see today; roadside signs. But as the passenger may not be focused outdoors, promotions could be sent to devices directly during the trip, by app or in-car screens. Imagine receiving a notification that there's a lunch discount at a quaint roadside diner! Fleet cars in particular could be pre-installed with software to easily discover – and then drive to – these attractions, as they appear on the trip.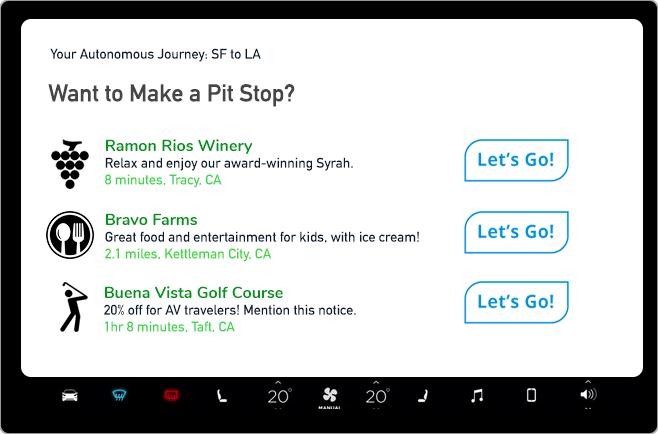 In sum, self-driving cars would make taking the central valley by car all the more frequent and enjoyable. And that could be a huge boon to cities typically reliant on agriculture to help sustain their economies.
Want to talk more about the economic possibilities of Self-Driving lanes? Contact us.