The Autonomous Lane is an AV Imagination project. Learn more about it here.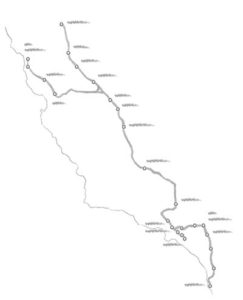 Unlike rail, dedicated autonomous lanes could easily extend current infrastructure, and can include alternative routes for the same trip. These routes could allow riders to visit central Californian cities and towns and help with local economies.
Several route considerations include:
Availability of parking, conveniences, and facilities at potential start and ending locations.
Ease of conversion of existing roadways, or the ability to add additional lanes.
The number of towns and cities that could be served by the autonomous lanes.
Local political will for the construction of the lanes.
Proximity to population centers.
Ability for expansion.
With your support, we'll be researching all these factors and more, but we'd love to hear your thoughts below!