Autonomous Vehicles California (AutonomousCA.org) is a grassroots public advocacy organization, dedicated to hastening the widespread use of autonomous vehicles on California's roads. What started out as a conversation between friends about congestion and safety on Los Angeles's highways turned into a larger discussion about the promising future of autonomous vehicles. Like many others, we believe that autonomous cars will bring about drastic, positive change, including significant reductions in driving injuries and fatalities, substantial alleviation of traffic congestion, and greater equity in transportation. Our hope is that by the time our children can drive, they won't have to.
Our mission:
"Accelerate the use of safe and efficient autonomous vehicles on California's roadways."
We're a group of California scholars, practitioners, engineers, and laypersons with a shared interest in public policy.  We're looking for advisors and supporters.  If you'd like to join us, please sign up or contact us today. We've love to have you on join our cause!
Jeremy Lupoli, Ph.D., MSIT
Chairperson of the Board
Along with a long-tenured educational background in political science, public policy, and statistical methods, Jeremy has been in the technology field for over twenty years, many of those as tech executive in the education space.  He has a passion for good public policy that can have a substantial positive social impact. He lives with his family – including his wife and two young children – in Brea, CA.
Sam Elhag
Board Secretary
Sam Elhag is a serial entrepreneur and product manager. Most recently, Sam co-founded Engrade, a learning management system acquired by McGraw Hill Education. Prior to Engrade, Sam was an executive consultant for Explore.org, overseeing a team tasked with promoting the work of non-profits across new media platforms. Sam is passionate about technologies with social or environmental impact and advising new start ups.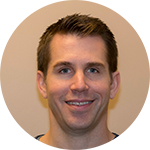 Aric Rhen, O.D.
Board Treasurer
Aric is a doctor of optometry that has been serving the greater Los Angeles community since 2005. He is an advocate of effective and efficient technological advancements. Like many southern Californians, Aric has experienced the fatigue and lost time of commuting on congested roadways.  He looks forward to the day when autonomous vehicles might make for a more efficient drive into the office.
Kevin Lenaburg
Board Member
Kevin leads a national coalition of patient advocacy nonprofit organizations, providing support to people with headache, migraine and cluster diseases who are often stigmatized and under-served. He has managed the launch and growth of the coalition, overseeing all aspects of communications, advocacy, strategic planning, fundraising and programmatic execution. Prior to this role, Kevin was a V.P. at the world's largest public relations agency, focusing on coalition building for a wide range of health clients. Kevin has a master's degree in Applied Politics from American University and a bachelor's degree in Political Science from UC San Diego.